When your parents get divorced, it's not a one-time event. It remains with you for life. Today we continue the conversation with three adult children of divorced parents about the road to healing and how they seek to build up their own families. This episode features Dan Meola, Beth Sri, and LeeAnne Abel.
On Podbean:
And Soundcloud:
Read More
Archive
Bishop Olmsted of the Diocese of Phoenix spoke at the National Catholic Prayer Breakfast on April 23, 2019. His full address is available; He spoke on the importance of continuing to preach the good news of marriage and family.
He spoke about gender ideology, among other topics, noting, "Any rejection of bodiliness will immediately target two beautiful but demanding and sometimes inconvenient realities: marriage and the child."
Read More
Archive
Read More
Archive
Happy National Marriage Week!!!! (Feb 7-14) Check out For Your Marriage for lots of events and special posts for this week.
Described in a popular book by Gary Chapman, the five love languages are five different ways that we human beings give and receive love; and some of them "speak" to us better than others. The thing is, we don't even necessarily realize it, or how to talk about it. Today on Made for Love we're talking about the five love languages in marriage with Francis and Julia Dezelski, Bryan and Liz Smalley, and Craig and Stephanie Rapp.
On Podbean:
And Soundcloud:
Read More
Archive
"Porn Kills Love." This slogan from "Fight the New Drug" resonates with Catholic teaching about pornography. This episode is about Catholics dealing with addiction to pornography. It includes DJ Hueneman, Jeff and Annette Kohn, Kevin and Krista Burridge, Patty Breen, and Perry West.
Soundcloud:
Or Podbean:
The 2005 USCCB statement "Create in Me a Clean Heart" (Also in Spanish) addresses the crisis of pornography in today's world. There's an abridged version if you are pressed for time! The conference also publishes pamphlets to help particular groups:
The USCCB's For Your Marriage website also has resources and help for people dealing with pornography.
The journal Humanum has a beautiful witness story: The Cleansing of the Temple: Casting Pornography Out of Marriage
Read More
Archive
Catholics who are divorced go through a hard process, and can feel forgotten, marginalized, or unwanted at our parishes. How can we make sure that is not the case?  This episode features Rose Sweet of Divorce Healing and Surviving Divorce, Patty Breen, Brad Grey, and Fr. Steve Porter.
On Soundcloud:
And Podbean:
Patty Breen has written a few pieces on divorce for Blessed is She and Catholic Match Institute, such as: "3 Myths about Catholics and Divorce" and "How to Navigate the Worst Days After Divorce"
Read More
Archive
Navigating cultural differences in marriage can be a challenge but brings great rewards. This episode features Dusan and Elizabeth Turcon, Christine and Ysias Martinez, Justin and Bernadette McClain, and Dunn and Mary Estacio.
Available on podbean:
Or soundcloud!
Read More
Archive
Natural Family Planning, Part One!
Chastity doesn't mean abstinence, but rather integrating one's sexual impulses into love. That's obviously important in marriage. Anticipating Natural Family Planning awareness week (July 22-28), we talk about NFP with Amy and Duston Stout, Mark and Leslie Wolf, and Rachel and Dax.
Tons of information on NFP is available at the USCCB website. 
For example, here's a page with current medical research about fertility awareness.
If you are interested in finding a class, here's a directory that includes programs with distance learning.
National NFP Awareness Week is July 22-28, 2018. This year's theme is "Generations of Love."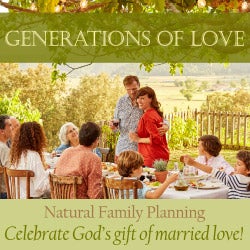 And since Rachel talked about a few books in the podcast, here are links to those:
Life-Giving Love by Kimberly Hahn and John Paul II's letter Familiaris Consortio
Read More
Archive
On today's Made for Love, we continue to look at Humanae Vitae fifty years later. What is the Church's teaching on the "transmission of life"? This episode features Chris and Becky Wilson, Sister Helena Burns, fsp, Chris Reynolds from the Couple to Couple League, Dr. John Grabowski of CUA, and Dr. Theresa Notare of the USCCB's NFP office.
Here are the Resolutions of the Lambeth Conference of 1930.
Read More
Archive
Humanae Vitae Part 1
On today's Made for Love, we look at Humanae Vitae from the perspective of fifty years of change. What is HV all about? Have Pope Paul VI's predictions come true? This episode features Bishop Ricken (Green Bay), Bishop Rassas (Auxiliary in Chicago), Dr. John Grabowski of CUA, Sister Helena Burns, fsp, Dr. Theresa Notare of the USCCB's NFP office, and Dr. Lionel and Janet Yaceczko.
Here's the 1968 Encyclical Humanae Vitae that we are talking about today. That's the Vatican translation, as Dr. Lionel Yaceczko reads it on the podcast. Here's another translation, by Dr. Janet Smith (scroll down to find the encyclical).
The USCCB NFP office is keeping an up-to-date list of events and resources for the anniversary.
Here's Dr. John Grabowski's faculty page at the Catholic University of America.
Read More
Archive
Check out Bishop DiMarzio's column on marriage in his Diocesan paper (Diocese of Brooklyn).
Read More
Archive
Archbishop Thomas Wenski of the Archdiocese of Miami recently published this article on the Church's defense of marriage. It is also available in Spanish.
This is a great reminder that the Church's defense of marriage as the union of one man and one woman has not ended because of the Supreme Court's redefinition in 2015.
Read More
Archive
Archbishop Kurtz of Louisville recently contributed an op-ed about the First Amendment Defense Act (see the USCCB letter of support) for the local paper. Check it out!
Read More
Archive
The Murphys, Dawsons, and Stouts all thought that because they studied theology, they would be really good at this marriage thing. But knowing the Theology of the Body, while that knowledge is certainly a gift, does not mean your marriage will be easy. The messiness and difficulty of marriage is part of the vocation; it doesn't mean that you are failing. Listen to these stories of real marriage and its beauty.
Read More
Archive
Read More
Archive
Read More
Archive
Stacy and Nabil met in college. Their wedding day was the happiest day of Stacy's life. But within a few years, they were divorced and Stacy was petitioning for an annulment. What happened? This episode explores the complex issue of annulment in the Catholic Church and features Stacy Thomlison, Fr. Bob Cannon of the Archdiocese of the Military Services, and Alice Heinzen, the marriage and family life director from the Diocese of La Crosse.
To learn more about the annulment process, speak to a priest at your local parish or call the marriage and family life director for your diocese. They will be able to listen to your story and help guide you.
To read up on Catholic teaching on annulments, head here for some FAQ's: http://www.foryourmarriage.org/catholic-marriage/church-teachings/annulments/
There are links on the bottom of the article to Vatican documents about the annulment process, including the most recent revision that Pope Francis instituted. And here's the USCCB webpage all about annulments.
Stacy is part of the Fellowship of Catholic University Students, which is an effective evangelization ministry. I saw her give a talk to the National Council of Catholic Women, which was founded by the U.S. Bishops in 1920.
Here's a story about Fr. Bob Cannon that gives more of his background (and a picture!) http://www.milarch.org/father-robert-r-cannon-ch-col-usaf-named-ams-chancellor/
Here are some articles that Alice Heinzen has written that you may be interested in: https://www.catholicmatch.com/institute/author/aheinzen/
Alice and her husband Jeff were able to speak to the bishops assembled in Rome for the Extraordinary Synod on the Family in 2014. Read their testimony here: https://zenit.org/articles/synod14-testimony-of-mr-and-mrs-jeffrey-heinzen-diocese-of-la-crosse-usa/
Read More
Archive
Note bene: This blog post includes a quote from the newer translation by Grzegorz Ignatik of Love and Responsibility—this translation is more readable and may be in some ways more faithful to the original, but the blog post author is most familiar with the H.T. Willets translation and that is why it has been used more!
Chastity as Virtue:
Where does chastity fit in the general pursuit of virtue? This is what Wojtyla seeks to answer in this section of Love and Responsibility. Aquinas places chastity under the cardinal virtue of temperance[1], or moderation, by which reason moderates physical drives (for food, drink, and
sex). Thus for Aquinas, chastity, as a sub-virtue of moderation, is having control over one's sensual desire, such that the person is in a more or less permanent state of control (in the will).
Wojtyla asks, is that really the best way to think about chastity? As self-control? No, he argues, "There is no way to comprehend chastity without the virtue of love."[i] The virtue of chastity cannot only consist in control over one's impulses, but rather control of "those centres deep within the human being in which the utilitarian attitude is hatched and grows."[ii] This is much harder, and much easier, than acquiring chastity as moderation. It's harder because looking at yourself honestly and working to root out self-centeredness and a tendency to use others is the work of a lifetime. And yet, once you engage in this deeper work you are much less likely to fall into particular sins related to lust or emotional manipulation. A virtue makes doing what is right easy and joyful. It becomes "co-natural" and it is no longer a real question or temptation because the will is solidly grounded in the understanding of the value of the person.
Consider pornography, for example. There will always be external temptations to view pornography, but the man or woman who has internalized and gained the virtue of chastity does not experience these temptations in the same way that
someone who does not have the virtue does. He or she knows in their mind that pornography degrades a human being, and has chosen with his or her will, over and over again, to reject it, such that pornography loses much of its power.[2]
The Goodness of the Whole Person:
"To be chaste," Wojtyla writes, "means to have a 'transparent' attitude to a person of the other sex… the desire to 'enjoy' is subordinated to a readiness to show loving kindness in every situation."[iii] Wojtyla reiterates that chastity does not mean "artificially banishing the values of the 'body' or more generally the values of sex to the subconscious, of pretending that they do not exist or at any rate have no effect."[iv] That is not a good idea. As Wojtyla notes, this false idea of chastity lends itself to "explosions" of sexual desire after repression.[v] Such repression happens when one sees chastity only as a negative virtue (a "no"), "whereas it is above all the 'yes' of which certain 'no's' are the consequence."[vi] Chastity's essence is
"quickness to affirm the value of the person in every situation and in raising to the personal level all reactions to the value of 'the body and sex.'"[vii] It doesn't push down the value of the body and sex, trying to smother it, but rather seeks to integrate its goodness into the knowledge of the goodness of the whole person. As Wendy Shalit wrote about modesty (a sub-virtue of chastity) in A Return to Modesty:
"Whether she decides to have scores of men or none, promiscuous
and prudish women in some sense embrace the same flippant world view,
which one might call the nothing-fazes-me world view. As types, they rep-
resent two sides of the same unerotic coin, which flips over arrogantly and
announces to the world when it lands, "Ha!—I cannot be moved." Modesty
is prudery's true opposite, because it admits that one can be moved and
issues a specific invitation for one man to try."[viii]
If sexual reactions were always bad or undesirable, how could marriage be considered good or holy? "True chastity does not lead to disdain for the body or to disparagement of matrimony and the sexual life,"[ix] Wojytla writes. "That is the result of false chastity, chastity with a tinge of hypocrisy, or, still more frequently, of unchastity."[x] A person who has not integrated their sexual reactions into a deeper affirmation of the person will see all sexual reactions as 'dirty.' "Thus only the chaste man and the chaste woman are capable of true love."[xi] Chastity frees a couple from using each other and gives them the ability to love in their marital
sexual relationship.[xii] This requires maturity of many kinds, since concupiscence remains. "For this reason, chastity is a difficult, long term matter; one must wait patiently for it to bear fruit."[xiii]
Finally, Wojytla writes about the "humility of the body," which he asserts is necessary for love.[xiv] "The human body must 'humble itself' in face of the magnitude represented by love… subordinate itself [to love]."[xv] Instead of the person striving to satisfy the body's desires, the chaste person basically says to the body, "Not so fast! This is a person, and he/she is a child of God, destined for heaven." Thus the body is subordinated to the ultimate happiness of the person. For, "Blessed are the pure in heart, for they shall see God" (Mt. 5:8).
[1] If you need a little refresher, the cardinal virtues are the four "big" virtues, under which other virtues fall. They are prudence, temperance, justice, and fortitude.
[2] This is one of the reasons that early exposure to pornography is so harmful to the person—it snatches away, if you will, the innocent period of time when a child sees everyone as a human person first and only later as a sexual body, and makes it that much harder to develop chastity and a proper view of the human person.
[i] Karol Wojtyla. Love and Responsibility (Boston: Pauline Books and Media, 2013), p. 154.
[ii] Wojtyla, Karol. Love and Responsibility (San Francisco: Ignatius Press, 1993), p. 170.
[iii] Ibid, p. 170.
[iv] Ibid, p. 170.
[v] Ibid, p. 170.
[vi] Ibid, p. 170.
[vii] Ibid, p. 171.
[viii] Wendy Shalit. A Return to Modesty (New York: Touchstone, 1999), p. 182.
[ix] Ibid, p. 171.
[x] Ibid, p. 171.
[xi] Ibid, p. 171.
[xii] Ibid, p. 171.
[xiii] Ibid, p. 172.
[xiv] Ibid, p. 172.
[xv] Ibid, p. 172.
Read More
Archive

Mature Love is Learned:
Young people may scoff, Wojtyla notes in this section of Love and Responsibility, at the idea that love must be educated, or learned. But the love that a scoffer is are thinking of is the psychological aspect of love, its emotions and desires, not the
mature love on which a marriage should be based. Desire and emotion are not learned, but just happen; Mature love is learned and worked on. "For love is never something ready made, something merely 'given' to man and woman," Wojtyla writes, "It is always at the same time a 'task' which they are set."[1] Love is like a mission, "Should you choose to accept it" (Mission Impossible). Wojtyla writes that love is always "only 'becoming',"[2] not complete. The couple can never brush their hands together and declare, "Okay, now we love each other perfectly! What shall we do next?"
Creators of Love:
Man and woman must continually be creators of their love. They may be given, by God, their past experience, and their natural inclinations, the raw material of attraction or infatuation, but they must make their love by choosing it, over and
over. Love takes work and it is not easy. "Such a great love can only be the work of persons and… the work of Divine Grace."[3] Wojtyla notes that sometimes love "follows tortuous ways," but, "Grace has the power to make straight the paths of human love."[4] This is the hope that couples can cling to in difficult times. God is with them.
Wojtyla concludes his "Ethical Analysis of Love" here by noting that there is, in the relationship and man and woman, "an insidious possibility of disintegration"[5] (i.e. separation of the desires and emotions from the real choice of the person) which must be countered by developing the virtue of chastity. This is the topic of the next chapter.
[1] Wojtyla, Karol. Love and Responsibility (San Francisco: Ignatius Press, 1993), p. 139.
[2] Ibid, p. 139.
[3] Ibid, p. 140.
[4] Ibid, p. 140.
[5] Ibid, p. 140.
Read More
Archive

True knowledge for True Love
"Only true knowledge of a person makes it possible to commit one's freedom to him or her,"[i] Wojtyla writes at the beginning of this section of Love and Responsibility. While giving up or limiting one's freedom sounds unpleasant (especially to American ears), Wojtyla notes that, "Freedom exists for the sake of love."[ii] In fact, human beings want to use their freedom to love—and not just to love for a little while but to love in a permanent, irrevocable way. "Forever" is implicit in "I love you," not something added on. If someone said, "I love you today, but I'm not sure about tomorrow," the other person would rightly respond, "Then you don't love me at all."
Wojtyla notes that the choice of loving another person—keeping in mind that love is the affirmation of the person—must be free. It cannot be made out of coercion or even passion. Wojtyla says that a person's will "is usually the arena for a struggle
between the sexual instinct and the need for freedom."[iii] Someone may have to conciously struggle against their bodily desires and emotions in order to see the other person clearly and to treat them as a person, not an object. "Willed love expresses itself above all in the desire of what is good for the beloved person,"[iv] Wojtyla writes.
Focused on Oneself vs. Focused on the Other
While sexual desire and infatuation, even though they involve another person, are focused on oneself, the will can focus on the other. One can can desire happiness for the other in an unselfish way—and not just momentary happiness but the ultimate happiness of heaven. "[Love in the will] desires the absolute good, the unlimited good, happiness for that person, and in this way compensates and atones for the desire to have that other person, a person of the other sex, for itself."[v] Rather than denying that the body and emotions are driving someone toward relationships with the other person, the will acknowledges it and seeks to shape and form what is happening into mature love.
Sexual desire and emotional infatuation want to take; love wants to give. This is the "divine aspect of love,"[vi] the fact that to love someone, "is really to desire God for that person."[vii] In your relationships, can you say that you desire God for
the other person? Wojtyla notes that "only people of profound faith"[viii] see this truth. Wojtyla notes that it is sometimes a great discovery when a person realizes that he can put another person first, freely and joyfully. A person who loves may sacrifice much without thinking too much about it. Think of parents who constantly put their children's needs before their own. "Love is indeed the highest of moral values. but one must know how to transfer it to the ordinary affairs of everyday life. This is where the problem of educating love arises."[ix] This ability to love in action shows a person's capacity for greatness, but this greatness is often manifested in small gestures of tenderness or sacrifice: getting up before one's spouse to start the coffee, complimenting him or her, etc. Marriage means doing "small things with great love" (as St. [Mother] Teresa of Calcutta would say).
[i] Wojtyla, Karol. Love and Responsibility (San Francisco: Ignatius Press, 1993), p. 135.
[ii] Ibid, p. 135.
[iii] Ibid, p. 136.
[iv] Ibid, p. 137.
[v] Ibid, p. 137.
[vi] Ibid, p. 138.
[vii] Ibid, p. 138.
[viii] Ibid, p. 138.
[ix] Ibid, p. 139.