Down Syndrome is a part of many Catholic families' stories. Children with Down Syndrome bring immense joy into their families, even as their intellectual disabilities and medical problems may bring crosses and hardships. Today we'll hear from Archbishop Kurtz (Louisville), a family who have children with Down Syndrome (J.D. and Kate Flynn), the UK filmmaker whose documentary "Summer in the Forest" follows Jean Vanier and his work with people with intellectual disabilities (Randal Wright), and a reporter from Aleteia (Zoe Romanowsky).
Check out the film Summer in the Forest
And here's a link to the story that Zoe talks about on the podcast: https://aleteia.org/2018/03/19/50-moms-join-in-car-pool-karaoke-with-their-kids-to-shed-light-on-down-syndrome-video/
Soundcloud:
or Podbean:
Read More
Archive
Navigating cultural differences in marriage can be a challenge but brings great rewards. This episode features Dusan and Elizabeth Turcon, Christine and Ysias Martinez, Justin and Bernadette McClain, and Dunn and Mary Estacio.
Available on podbean:
Or soundcloud!
Read More
Archive
Natural Family Planning, Part One!
Chastity doesn't mean abstinence, but rather integrating one's sexual impulses into love. That's obviously important in marriage. Anticipating Natural Family Planning awareness week (July 22-28), we talk about NFP with Amy and Duston Stout, Mark and Leslie Wolf, and Rachel and Dax.
Tons of information on NFP is available at the USCCB website. 
For example, here's a page with current medical research about fertility awareness.
If you are interested in finding a class, here's a directory that includes programs with distance learning.
National NFP Awareness Week is July 22-28, 2018. This year's theme is "Generations of Love."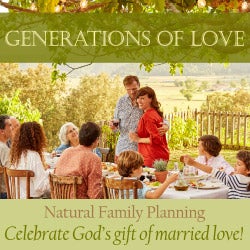 And since Rachel talked about a few books in the podcast, here are links to those:
Life-Giving Love by Kimberly Hahn and John Paul II's letter Familiaris Consortio
Read More
Archive
On today's Made for Love, we continue to look at Humanae Vitae fifty years later. What is the Church's teaching on the "transmission of life"? This episode features Chris and Becky Wilson, Sister Helena Burns, fsp, Chris Reynolds from the Couple to Couple League, Dr. John Grabowski of CUA, and Dr. Theresa Notare of the USCCB's NFP office.
Here are the Resolutions of the Lambeth Conference of 1930.
Read More
Archive
Humanae Vitae Part 1
On today's Made for Love, we look at Humanae Vitae from the perspective of fifty years of change. What is HV all about? Have Pope Paul VI's predictions come true? This episode features Bishop Ricken (Green Bay), Bishop Rassas (Auxiliary in Chicago), Dr. John Grabowski of CUA, Sister Helena Burns, fsp, Dr. Theresa Notare of the USCCB's NFP office, and Dr. Lionel and Janet Yaceczko.
Here's the 1968 Encyclical Humanae Vitae that we are talking about today. That's the Vatican translation, as Dr. Lionel Yaceczko reads it on the podcast. Here's another translation, by Dr. Janet Smith (scroll down to find the encyclical).
The USCCB NFP office is keeping an up-to-date list of events and resources for the anniversary.
Here's Dr. John Grabowski's faculty page at the Catholic University of America.
Read More
Archive
Fathers are a gift to their children. Fatherhood is also an immense task; a father is meant to give unconditional love and acceptance, along with protection and challenge. This episode features Bishop Sis (San Angelo), Bishop Paprocki (Springfield), Mark Hartfiel of That Man is You, Paul Jarzembowski and Andy Lichtenwalner from the USCCB, Katy Doran of CanaVox, Deborah Savage from the University of St. Thomas, and Joseph Capizzi from Catholic University.
Links to some of my guests' organizations:
That Man Is You from Paradisus Dei
CanaVox
And as always, the episode is also on Soundcloud and iTunes (USCCB Clips)!
Read More
Archive
Bishops have Moms, too!
On this episode of Made for Love, bishops speak about their mothers and celebrate the gift that motherhood is for the Church and the world. Bishops Caggiano (Bridgeport), Mansour (Eparchy of St. Maron of Brooklyn), Paprocki (Springfield, IL), Ricken (Green Bay), and Sis (San Angelo).
Read More
Archive
Sports and the Family
He shoots… he scores! Did you know one of our bishops was a hockey player who has also run 23 marathons? Find out more on today's Made for Love, as we discuss how sports can enrich family life. This episode features Steve Splonskowski, Bishop Paprocki of the Diocese of Springfield, Sister M. Xavier Schulze, FSGM, and Jeanne and Veronica Canavan.
Read More
Archive
Infertility is a reality for thousands of Catholic marriages. On this episode of Made for Love: how married couples face the cross of infertility together, and find love through it. Sara and Tom Faenhle, Chris and Emily (nee Stimpson) Chapman, Jen and Mark Crowley of Sarah's Hope and Abraham's Promise, and Connie Poulos of the USCCB are featured on the episode.
Here is the text of the prayer that Connie talked about in the episode:
A TRIBUTE HONORING THE EXPERIENCE OF MOTHERS
*Adapted from, A Litany for Mother's Day, Amy Young
Following the prayer After Communion, the presider says the following:
Presider: St. Paul tells us in his letter to the Romans, "Rejoice with those who rejoice, weep with those who weep." On this day, when we acknowledge the importance of motherhood, we are grateful for all who have shown us a Mother's love, and grieve with those who are experiencing pain and loss.
To those who gave birth this year to their first child—we celebrate with you.
To those who lost a child this year—we mourn with you.
To those who experienced loss through miscarriage, failed adoptions or running away—we mourn with you.
To those who walk the hard path of infertility, fraught with pokes, prods, tears and disappointment—we walk with you. Forgive us when we say foolish things. We don't mean to make things harder.
To those who are foster moms, mentor moms and spiritual moms—we need you.
To those who have warm and close relationships with your children—we celebrate with you.
To those who have disappointment, heartache and distance with your children—we sit with you.
To those who lost their mothers this year—we grieve with you.
To those who experienced abuse at the hands of your own mother—we acknowledge your experience.
To those who have aborted children—we remember them and you on this day.
To those who are single and long to be married and mothering your own children—we mourn that life has not turned out the way you longed for it to be.
To those who stepparent—we walk with you on these complex paths.
To those who envisioned lavishing love on grandchildren, yet that dream is not to be, we grieve with you.
To those who will have emptier nests in the upcoming year—we grieve and rejoice with you.
To those who placed children for adoption—we commend you for your selflessness and remember how you hold that child in your heart.
To those who are pregnant with new life, both expected and surprising—we anticipate with you.
And to our Blessed Mother, as we celebrate the 100th anniversary of Our Lady of Fatima —we thank you for your example and motherly love, which leads us always to the divine love of your Son.
Follow with the Blessing of Mothers on the following page.
Read More
Archive
The complementarity of men and women does not mean that men and women are half-people walking around looking for their other half (sorry, Plato). This episode explores complementarity with stories from Andy Lichtenwalner, Deborah Savage, Joseph Capizzi, Pat and Elisa Fleming from Verdant View farm.
NOTE: I have just learned that the Flemings' barn, which housed their 60 cows, burned down last week. Please pray for them.
And here are more clips from MUR videos about this theme:
Read More
Archive
Mental Health and the Family
Mental illness is a reality for many families. Today, we're focusing on depression and anxiety, two of the most common mental illnesses, and their effects on family life. This episode features Dr. Aaron Kheriaty (author of The Catholic Guide to Depression), Tommy Tighe (author of The Catholic Hipster Handbook), Sarah Elliot and her daughter Moire, and Teresa Bippus.
The National Catholic Partnership on Disability has resources regarding mental illness including prayer services, prayers of the faithful, tips for the Sacrament of Reconciliation, etc.
Here are some cool saints and blesseds related to mental illness to get to know.
Speaking of St. Dymphna, there's a place in Denmark with a Church dedicated to her, where the mentally ill are welcomed into families. NPR did a story about this. 
And I just came across this story from Kevin Love, a player on the Cleveland Cavs. He has suffered panic attacks like Sarah in our podcast.
Read More
Archive
Kate was pregnant and in shock. Deborah, Elizabeth, Bethany, and their respective husbands, all felt an ache that their arms were empty after years of hoping for a child. This episode highlights the gift of adoption and its complexity in real life.
And don't forget Kelli's testimony about adoption:
And Peter Range:
Read More
Archive
The Murphys, Dawsons, and Stouts all thought that because they studied theology, they would be really good at this marriage thing. But knowing the Theology of the Body, while that knowledge is certainly a gift, does not mean your marriage will be easy. The messiness and difficulty of marriage is part of the vocation; it doesn't mean that you are failing. Listen to these stories of real marriage and its beauty.
Read More
Archive
This episode of "Made for Love" is in honor of National Marriage Week 2018!
The Power of the Table
Eating dinner together as a family used to be common and expected. The table is the place where members of the family can talk things out and hear about each other's lives. This episode features Bishop Caggiano of Bridgeport, Bishop Malone of Buffalo, Brendan Glasgow, Christina Strafaci, Craig and Stephanie Rapp, Tim and Lisa Roder, and Mary Beth Bonacci.
Read More
Archive
The fourth episode of "Made for Love" addresses domestic abuse and a Catholic response.
Here's the synopsis:
When Love Means Leaving (Feb. 1)
Domestic violence is a tragic reality in families today. The bishops issued a statement on domestic violence over 20 years ago ("When I Call for Help"), but many people do not know what the Church's teaching is. Some people mistakenly believe that they must stay in an abusive situation. This episode features Denise, Kathy Bonner, Fr. Chuck Dahm, OP, and the founder of Catholics for Family Peace, Sharon O'Brien.
Here are some links and notes about this topic:
Read More
Archive
Hi all!
Check out the article CNA did about our podcast: 'Made for Love' a new podcast focusing on marriage, family
Read More
Archive
I hope you enjoyed the first episode of Made for Love, with subcommittee chairman Bishop James D. Conley of Lincoln. Please subscribe on iTunes and tell your friends! This is a project of the staff of the USCCB who work for the Bishops' Subcommittee for the Promotion and Defense of Marriage.
Here's an article about Jayd Henricks, who appears at the beginning of this episode:
USCCB's Top Lobbyist Trades Political Realm for Parish Catechesis
by Dennis Sadowski, Dec 13, 2017
Catholic News Service
And here's a fun article about Bishop Conley and an adventure in Ireland:
That Time a Bishop Hung Out on the Star Wars Island
by Mary Rezac, December 13, 2017
Catholic News Agency
Here's a picture from Little League, when Bishop Conley and (now) Archbishop Coakley were on the same team:
Bishop Conley's dad is on the far right!
Read More
Archive
Stacy and Nabil met in college. Their wedding day was the happiest day of Stacy's life. But within a few years, they were divorced and Stacy was petitioning for an annulment. What happened? This episode explores the complex issue of annulment in the Catholic Church and features Stacy Thomlison, Fr. Bob Cannon of the Archdiocese of the Military Services, and Alice Heinzen, the marriage and family life director from the Diocese of La Crosse.
To learn more about the annulment process, speak to a priest at your local parish or call the marriage and family life director for your diocese. They will be able to listen to your story and help guide you.
To read up on Catholic teaching on annulments, head here for some FAQ's: http://www.foryourmarriage.org/catholic-marriage/church-teachings/annulments/
There are links on the bottom of the article to Vatican documents about the annulment process, including the most recent revision that Pope Francis instituted. And here's the USCCB webpage all about annulments.
Stacy is part of the Fellowship of Catholic University Students, which is an effective evangelization ministry. I saw her give a talk to the National Council of Catholic Women, which was founded by the U.S. Bishops in 1920.
Here's a story about Fr. Bob Cannon that gives more of his background (and a picture!) http://www.milarch.org/father-robert-r-cannon-ch-col-usaf-named-ams-chancellor/
Here are some articles that Alice Heinzen has written that you may be interested in: https://www.catholicmatch.com/institute/author/aheinzen/
Alice and her husband Jeff were able to speak to the bishops assembled in Rome for the Extraordinary Synod on the Family in 2014. Read their testimony here: https://zenit.org/articles/synod14-testimony-of-mr-and-mrs-jeffrey-heinzen-diocese-of-la-crosse-usa/
Read More
Archive
Terri and Vince met later in life and married with a vision of years of companionship ahead. This vision lasted only one month, when Vince started showing signs of an illness that there was no name for. Terri took care of Vince until he died seventeen years later, showing fidelity to her promises in a beautiful way. This episode includes Bishop Frank Caggiano, of the Diocese of Bridgeport, Fr. Scott Sina of the Diocese of Arlington, and Robert Mastrogiavanni, the President of the Well Spouse Association.
Terri has written a number of articles about her experience with caregiving. Here's one with some pictures of her and Vince:
"I Married the Love of My Life—Then Immediately Became His Caregiver for 16 Years"
by Terri Corcoran as told to Abigail Cuffey, August 7, 2017
Women's Day
And another with more details about Vince's illness:
Life with FXTAS: Supporting a Spouse with Fragile X-Associated Tremor Ataxia Syndrome
Here's a link to the Well Spouse Association: http://www.wellspouse.org/
[Please note that this is not an endorsement of the organization.]
Read More
Archive
Here are a few teasers of our upcoming podcast, Made for Love: