Pets can make a huge positive difference in the life of a family. They can bring out different sides of family members, provide an opportunity to learn responsibility, and provide surprises and entertainment. On this episode, we'll hear from Bishop Vann (Orange), who is a dog-lover, Sarah Hinds, who grew up with horses and other pets, Fr. Brian Mahoney, who writes about his cats in his parish bulletin, and a few kids with pets!
Here's a reflection by participant Sarah Coffey on her blog about how pets can be good for your soul!
or
Read More
Archive
How can Catholics approach dating in a healthy way? Who should do the initiating? How do you break up with someone nicely? This episode includes Dr. Kerry Cronin, the professor from Boston College who is featured in the film, The Dating Project, Dr. Paul Gondreau from Providence College, and USCCB staff members.
On podbean:
And Soundcloud:
Read More
Archive
The Dating Podcast: Young Adults
There's a lot of secular evidence that there isn't a great dating culture in America right now. What about dating as a Catholic? Today we're talking with Dr. Kerry Cronin, the professor from Boston College who is featured in the film, The Dating Project, Dr. Paul Gondreau from Providence College, and LMFLY interns Kelly Walsh and Elizabeth Plaza.
On Podbean:
And Soundcloud:
In the first week of January, we will post a review of the movie The Dating Project by Elizabeth Plaza. Stay tuned!
Read More
Archive
The first time Alice went to Christmas with Jeff's family, things were a little different. How do you navigate the holiday season and juggle all the family traditions with grace? Hear a few stories that will get you ready for Christmas. Also features Bishop Ricken (Green Bay) and Aaron and Lindsay Weldon.
On Soundcloud:
Or Podbean:
Read More
Archive
SPECIAL NOTE: Made for Love is now available on iTunes under its own name! (Not only under "USCCB Clips") So please subscribe and review and tell your friends!
God's gifts are often abundant! Today we talk with three Catholic families who have big families (by today's standards): Jerry and Kate Hadley, parents of 10 children, along with their 3rd (Cecilia) and 8th (Tim) children; Andrew and Vivian Nelson, who are expecting their 8th child, and Sam Fatzinger, mother of 13+1 foster child.
The Fatzinger family was profiled by The Washington Post for their debt-free college plan. They also run the Large Family Resource website.
Soundcloud:
Podbean:
Read More
Archive
"Porn Kills Love." This slogan from "Fight the New Drug" resonates with Catholic teaching about pornography. This episode is about Catholics dealing with addiction to pornography. It includes DJ Hueneman, Jeff and Annette Kohn, Kevin and Krista Burridge, Patty Breen, and Perry West.
Soundcloud:
Or Podbean:
The 2005 USCCB statement "Create in Me a Clean Heart" (Also in Spanish) addresses the crisis of pornography in today's world. There's an abridged version if you are pressed for time! The conference also publishes pamphlets to help particular groups:
The USCCB's For Your Marriage website also has resources and help for people dealing with pornography.
The journal Humanum has a beautiful witness story: The Cleansing of the Temple: Casting Pornography Out of Marriage
Read More
Archive
As the bishops of the Church discussed during last month's synod in Rome, we here at home are discussing young people, the faith, and discernment with Bishop Caggiano of Bridgeport (also a delegate to the synod), Bishop Sis of San Angelo, Sr. Helena Burns, fsp, Anna Carter of the Eden Invitation, and 3 young people: Jeanne Marie Hathway, Kelly Walsh, and Elizabeth Plaza.
Listen on Soundcloud:
Or Podbean:
And here are a few resources about discernment (including consolation and desolation, as mentioned in the episode):
USCCB:
Other
(Not endorsed! Just Sara's googling and a cursory check that it's not crazy…)
Read More
Archive
Catholics who are divorced go through a hard process, and can feel forgotten, marginalized, or unwanted at our parishes. How can we make sure that is not the case?  This episode features Rose Sweet of Divorce Healing and Surviving Divorce, Patty Breen, Brad Grey, and Fr. Steve Porter.
On Soundcloud:
And Podbean:
Patty Breen has written a few pieces on divorce for Blessed is She and Catholic Match Institute, such as: "3 Myths about Catholics and Divorce" and "How to Navigate the Worst Days After Divorce"
Read More
Archive
Catholics have a well of spiritual insight to dip into to prepare for the birth of a child. On today's episode, you'll hear from Mary Haseltine, author of Made for This: The Catholic Mom's Guide to Birth, Haley Stewart (from the popular blog Carrots for Michaelmas) and birth stories from a few of Sara's friends, including a baby who was born in the car in the driveway of the hospital: good catch, dad!
On Soundcloud:
Or Podbean:
Read More
Archive
Down Syndrome is a part of many Catholic families' stories. Children with Down Syndrome bring immense joy into their families, even as their intellectual disabilities and medical problems may bring crosses and hardships. Today we'll hear from Archbishop Kurtz (Louisville), a family who have children with Down Syndrome (J.D. and Kate Flynn), the UK filmmaker whose documentary "Summer in the Forest" follows Jean Vanier and his work with people with intellectual disabilities (Randal Wright), and a reporter from Aleteia (Zoe Romanowsky).
Check out the film Summer in the Forest
And here's a link to the story that Zoe talks about on the podcast: https://aleteia.org/2018/03/19/50-moms-join-in-car-pool-karaoke-with-their-kids-to-shed-light-on-down-syndrome-video/
Soundcloud:
or Podbean:
Read More
Archive
Navigating cultural differences in marriage can be a challenge but brings great rewards. This episode features Dusan and Elizabeth Turcon, Christine and Ysias Martinez, Justin and Bernadette McClain, and Dunn and Mary Estacio.
Available on podbean:
Or soundcloud!
Read More
Archive
Natural Family Planning, Part One!
Chastity doesn't mean abstinence, but rather integrating one's sexual impulses into love. That's obviously important in marriage. Anticipating Natural Family Planning awareness week (July 22-28), we talk about NFP with Amy and Duston Stout, Mark and Leslie Wolf, and Rachel and Dax.
Tons of information on NFP is available at the USCCB website. 
For example, here's a page with current medical research about fertility awareness.
If you are interested in finding a class, here's a directory that includes programs with distance learning.
National NFP Awareness Week is July 22-28, 2018. This year's theme is "Generations of Love."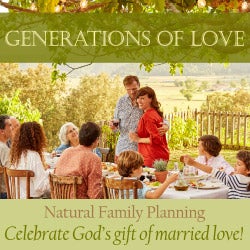 And since Rachel talked about a few books in the podcast, here are links to those:
Life-Giving Love by Kimberly Hahn and John Paul II's letter Familiaris Consortio
Read More
Archive
On today's Made for Love, we continue to look at Humanae Vitae fifty years later. What is the Church's teaching on the "transmission of life"? This episode features Chris and Becky Wilson, Sister Helena Burns, fsp, Chris Reynolds from the Couple to Couple League, Dr. John Grabowski of CUA, and Dr. Theresa Notare of the USCCB's NFP office.
Here are the Resolutions of the Lambeth Conference of 1930.
Read More
Archive
Fathers are a gift to their children. Fatherhood is also an immense task; a father is meant to give unconditional love and acceptance, along with protection and challenge. This episode features Bishop Sis (San Angelo), Bishop Paprocki (Springfield), Mark Hartfiel of That Man is You, Paul Jarzembowski and Andy Lichtenwalner from the USCCB, Katy Doran of CanaVox, Deborah Savage from the University of St. Thomas, and Joseph Capizzi from Catholic University.
Links to some of my guests' organizations:
That Man Is You from Paradisus Dei
CanaVox
And as always, the episode is also on Soundcloud and iTunes (USCCB Clips)!
Read More
Archive
When a man decides to go to the seminary, his family's reaction matters. In this episode, two bishops (Bishop Caggiano, Bishop Rassas), 2 priests (Fr. Al Baca, Fr. Luke Ballman), and 1 seminarian (Brendan Glasgow) share their parents' reaction to their discernment.
The above link is for Podbean, which is a platform we joined because we got feedback that it is better for a lot of people. But everything is still on Soundcloud and iTunes too!
Read More
Archive
Bishops have Moms, too!
On this episode of Made for Love, bishops speak about their mothers and celebrate the gift that motherhood is for the Church and the world. Bishops Caggiano (Bridgeport), Mansour (Eparchy of St. Maron of Brooklyn), Paprocki (Springfield, IL), Ricken (Green Bay), and Sis (San Angelo).
Read More
Archive
Sports and the Family
He shoots… he scores! Did you know one of our bishops was a hockey player who has also run 23 marathons? Find out more on today's Made for Love, as we discuss how sports can enrich family life. This episode features Steve Splonskowski, Bishop Paprocki of the Diocese of Springfield, Sister M. Xavier Schulze, FSGM, and Jeanne and Veronica Canavan.
Read More
Archive
Infertility is a reality for thousands of Catholic marriages. On this episode of Made for Love: how married couples face the cross of infertility together, and find love through it. Sara and Tom Faenhle, Chris and Emily (nee Stimpson) Chapman, Jen and Mark Crowley of Sarah's Hope and Abraham's Promise, and Connie Poulos of the USCCB are featured on the episode.
Here is the text of the prayer that Connie talked about in the episode:
A TRIBUTE HONORING THE EXPERIENCE OF MOTHERS
*Adapted from, A Litany for Mother's Day, Amy Young
Following the prayer After Communion, the presider says the following:
Presider: St. Paul tells us in his letter to the Romans, "Rejoice with those who rejoice, weep with those who weep." On this day, when we acknowledge the importance of motherhood, we are grateful for all who have shown us a Mother's love, and grieve with those who are experiencing pain and loss.
To those who gave birth this year to their first child—we celebrate with you.
To those who lost a child this year—we mourn with you.
To those who experienced loss through miscarriage, failed adoptions or running away—we mourn with you.
To those who walk the hard path of infertility, fraught with pokes, prods, tears and disappointment—we walk with you. Forgive us when we say foolish things. We don't mean to make things harder.
To those who are foster moms, mentor moms and spiritual moms—we need you.
To those who have warm and close relationships with your children—we celebrate with you.
To those who have disappointment, heartache and distance with your children—we sit with you.
To those who lost their mothers this year—we grieve with you.
To those who experienced abuse at the hands of your own mother—we acknowledge your experience.
To those who have aborted children—we remember them and you on this day.
To those who are single and long to be married and mothering your own children—we mourn that life has not turned out the way you longed for it to be.
To those who stepparent—we walk with you on these complex paths.
To those who envisioned lavishing love on grandchildren, yet that dream is not to be, we grieve with you.
To those who will have emptier nests in the upcoming year—we grieve and rejoice with you.
To those who placed children for adoption—we commend you for your selflessness and remember how you hold that child in your heart.
To those who are pregnant with new life, both expected and surprising—we anticipate with you.
And to our Blessed Mother, as we celebrate the 100th anniversary of Our Lady of Fatima —we thank you for your example and motherly love, which leads us always to the divine love of your Son.
Follow with the Blessing of Mothers on the following page.
Read More
Archive
The complementarity of men and women does not mean that men and women are half-people walking around looking for their other half (sorry, Plato). This episode explores complementarity with stories from Andy Lichtenwalner, Deborah Savage, Joseph Capizzi, Pat and Elisa Fleming from Verdant View farm.
NOTE: I have just learned that the Flemings' barn, which housed their 60 cows, burned down last week. Please pray for them.
And here are more clips from MUR videos about this theme:
Read More
Archive
Mental Health and the Family
Mental illness is a reality for many families. Today, we're focusing on depression and anxiety, two of the most common mental illnesses, and their effects on family life. This episode features Dr. Aaron Kheriaty (author of The Catholic Guide to Depression), Tommy Tighe (author of The Catholic Hipster Handbook), Sarah Elliot and her daughter Moire, and Teresa Bippus.
The National Catholic Partnership on Disability has resources regarding mental illness including prayer services, prayers of the faithful, tips for the Sacrament of Reconciliation, etc.
Here are some cool saints and blesseds related to mental illness to get to know.
Speaking of St. Dymphna, there's a place in Denmark with a Church dedicated to her, where the mentally ill are welcomed into families. NPR did a story about this. 
And I just came across this story from Kevin Love, a player on the Cleveland Cavs. He has suffered panic attacks like Sarah in our podcast.