Every child is a gift, and the loss of even the smallest life is mourned by Catholic parents. Today we're talking about one of the heaviest crosses that is borne in Catholic family life: miscarriage and infant loss. This episode includes Leah Libresco Sargeant, Laura Fanucci, author, with her husband Franco, of Grieving Together: A Couple's Journey through Miscarriage, and Msgr. Donald Sakano from the Archdiocese of New York.
Leah is the author of Arriving at Amen: Seven Catholic Prayers that Even I Can Offer and Building the Benedict Option: A Guide to Gathering Two or Three Together in His Name
Here's the Shrine to the Unborn at Holy Innocent Parish in NYC, as mentioned in the podcast.
There is also a ministry called Elizabeth Ministry International that seeks to help families in these situations.
On Podbean:
And Soundcloud:
Read More
Archive
Pope Francis has spoken on numerous occasions, such as the World Meeting of Families in Dublin in 2018, about the impact of technology on family life, and the importance of a family's "unplugging" in order to be together. Today we'll talk about how families balance technology, especially social media, and their time together. This episode features Bishop Konderla of the Diocese of Tulsa, Dr. Timothy O'Malley of the University of Notre Dame, Mary Warren of CUA, and Tommy Tighe.
On Podbean:
And soundcloud:
And of course on iTunes and Stitcher and PlayFM!
Read More
Archive
When your parents get divorced, it's not a one-time event. It remains with you for life. Today we continue the conversation with three adult children of divorced parents about the road to healing and how they seek to build up their own families. This episode features Dan Meola, Beth Sri, and LeeAnne Abel.
On Podbean:
And Soundcloud:
Read More
Archive
The divorce of your mother and father affects you as a child, but not only as a child… Today we introduce you two three adult children of divorce who share their stories and experiences. This episode features Dan Meola, Beth Sri, and LeeAnne Abel. Some of their stories appear in the book Primal Loss: The Now-Adult Children of Divorce Speak by Leila Miller.
Dan Meola's website for the Recovering Origins retreat will go live on May 4, 2019: Life-Giving Wounds
Here's Beth's written piece that I mention on the podcast: God heals a Child of Divorce
And this is a book that Dan Meola references: Between Two Worlds
Available on Podbean:
Or Soundcloud:
Made for Love is also available now on Stitcher and PlayerFM.
Read More
Archive
There are quotes galore on the joys of friends, and what they bring to our lives. They are "the family we choose for ourselves," for example. How can a Catholic better learn and live the virtues required to be a good friend? How can married couples cultivate friendships, both as individuals and as a couple? This episode will feature Bishop Caggiano of Bridgeport, Fr. Paul Scalia, James and Danielle Dill, Dr. John Cuddeback, and Mary Warren.
Mary Warren is the author of a book including reflection on women's friendships.
Dr. John Cuddeback blogs at http://www.baconfromacorns.com/
On Soundcloud:
And Podbean:
Read More
Archive
Catholic families are not immune from tragedy. Today Made for Love addresses the heartbreaking reality of suicide. The episode features Chris Miller, Tommy Tighe, and Sister Colleen Ann Nagle, FSE.
Here's the Franciscan Life Process Center, where Sr. Colleen Ann has done the retreats mentioned on the podcast.
The National Suicide Prevention Lifeline is: 1-800-273-8255
On Soundcloud:
And Podbean:
Read More
Archive
How do Catholic families navigate the waters of addiction to drugs or alcohol? How can the Church better support recovery efforts? On this episode, hear from two men in recovery, Dan Buckley and Brian Peck, who were interviewed by Zoey Maraist at the Arlington Catholic Herald, and Bishop Burbidge in the Diocese of Arlington who has many ideas for the Church's ministry to families dealing with addiction. We also talk with Nina Marie Corona, who experienced the heartache of watching her daughter struggle with addiction and who is certified in alcohol and drug recovery and began the programs "We Thirst" and "Afire."
Read Zoey Maraist's story from the Arlington Catholic Herald, "The opioid crisis is 'a family disease'" and meet Dan and Brian. Check out their podcast— that's where this audio came from!
I also just realized– Sara, here– that I missed an opportunity to introduce y'all to the Venerable Matt Talbot in this episode! He struggled with alcoholism, and today people ask for his intercession to become sober. I was able to see his Shrine in Dublin when we attended the World Meeting of Families last summer. Outside the shrine, people had written in chalk their names and their lengths of sobriety.
On Podbean:
And Soundcloud:
Read More
Archive
Every one of us faces death; it is a door we think that we walk through alone. But Catholics know that there is Someone who is with us even in death: Jesus Christ. Today we're talking about dying well. This episode features Sister Theresa Aletheia, of the Daughters of St. Paul and Fr. Paul Dressler, O.F.M. Cap.
Sr. Theresa Aletheia has some great resources for Lent about this theme! Check out her website Pursued By Truth for more information.
On Soundcloud:
And Podbean:
Read More
Archive
Pets can make a huge positive difference in the life of a family. They can bring out different sides of family members, provide an opportunity to learn responsibility, and provide surprises and entertainment. On this episode, we'll hear from Bishop Vann (Orange), who is a dog-lover, Sarah Hinds, who grew up with horses and other pets, Fr. Brian Mahoney, who writes about his cats in his parish bulletin, and a few kids with pets!
Here's a reflection by participant Sarah Coffey on her blog about how pets can be good for your soul!
or
Read More
Archive
How can Catholics approach dating in a healthy way? Who should do the initiating? How do you break up with someone nicely? This episode includes Dr. Kerry Cronin, the professor from Boston College who is featured in the film, The Dating Project, Dr. Paul Gondreau from Providence College, and USCCB staff members.
On podbean:
And Soundcloud:
Read More
Archive
The Dating Podcast: Young Adults
There's a lot of secular evidence that there isn't a great dating culture in America right now. What about dating as a Catholic? Today we're talking with Dr. Kerry Cronin, the professor from Boston College who is featured in the film, The Dating Project, Dr. Paul Gondreau from Providence College, and LMFLY interns Kelly Walsh and Elizabeth Plaza.
On Podbean:
And Soundcloud:
In the first week of January, we will post a review of the movie The Dating Project by Elizabeth Plaza. Stay tuned!
Read More
Archive
The first time Alice went to Christmas with Jeff's family, things were a little different. How do you navigate the holiday season and juggle all the family traditions with grace? Hear a few stories that will get you ready for Christmas. Also features Bishop Ricken (Green Bay) and Aaron and Lindsay Weldon.
On Soundcloud:
Or Podbean:
Read More
Archive
SPECIAL NOTE: Made for Love is now available on iTunes under its own name! (Not only under "USCCB Clips") So please subscribe and review and tell your friends!
God's gifts are often abundant! Today we talk with three Catholic families who have big families (by today's standards): Jerry and Kate Hadley, parents of 10 children, along with their 3rd (Cecilia) and 8th (Tim) children; Andrew and Vivian Nelson, who are expecting their 8th child, and Sam Fatzinger, mother of 13+1 foster child.
The Fatzinger family was profiled by The Washington Post for their debt-free college plan. They also run the Large Family Resource website.
Soundcloud:
Podbean:
Read More
Archive
"Porn Kills Love." This slogan from "Fight the New Drug" resonates with Catholic teaching about pornography. This episode is about Catholics dealing with addiction to pornography. It includes DJ Hueneman, Jeff and Annette Kohn, Kevin and Krista Burridge, Patty Breen, and Perry West.
Soundcloud:
Or Podbean:
The 2005 USCCB statement "Create in Me a Clean Heart" (Also in Spanish) addresses the crisis of pornography in today's world. There's an abridged version if you are pressed for time! The conference also publishes pamphlets to help particular groups:
The USCCB's For Your Marriage website also has resources and help for people dealing with pornography.
The journal Humanum has a beautiful witness story: The Cleansing of the Temple: Casting Pornography Out of Marriage
Read More
Archive
As the bishops of the Church discussed during last month's synod in Rome, we here at home are discussing young people, the faith, and discernment with Bishop Caggiano of Bridgeport (also a delegate to the synod), Bishop Sis of San Angelo, Sr. Helena Burns, fsp, Anna Carter of the Eden Invitation, and 3 young people: Jeanne Marie Hathway, Kelly Walsh, and Elizabeth Plaza.
Listen on Soundcloud:
Or Podbean:
And here are a few resources about discernment (including consolation and desolation, as mentioned in the episode):
USCCB:
Other
(Not endorsed! Just Sara's googling and a cursory check that it's not crazy…)
Read More
Archive
Catholics who are divorced go through a hard process, and can feel forgotten, marginalized, or unwanted at our parishes. How can we make sure that is not the case?  This episode features Rose Sweet of Divorce Healing and Surviving Divorce, Patty Breen, Brad Grey, and Fr. Steve Porter.
On Soundcloud:
And Podbean:
Patty Breen has written a few pieces on divorce for Blessed is She and Catholic Match Institute, such as: "3 Myths about Catholics and Divorce" and "How to Navigate the Worst Days After Divorce"
Read More
Archive
Catholics have a well of spiritual insight to dip into to prepare for the birth of a child. On today's episode, you'll hear from Mary Haseltine, author of Made for This: The Catholic Mom's Guide to Birth, Haley Stewart (from the popular blog Carrots for Michaelmas) and birth stories from a few of Sara's friends, including a baby who was born in the car in the driveway of the hospital: good catch, dad!
On Soundcloud:
Or Podbean:
Read More
Archive
Down Syndrome is a part of many Catholic families' stories. Children with Down Syndrome bring immense joy into their families, even as their intellectual disabilities and medical problems may bring crosses and hardships. Today we'll hear from Archbishop Kurtz (Louisville), a family who have children with Down Syndrome (J.D. and Kate Flynn), the UK filmmaker whose documentary "Summer in the Forest" follows Jean Vanier and his work with people with intellectual disabilities (Randal Wright), and a reporter from Aleteia (Zoe Romanowsky).
Check out the film Summer in the Forest
And here's a link to the story that Zoe talks about on the podcast: https://aleteia.org/2018/03/19/50-moms-join-in-car-pool-karaoke-with-their-kids-to-shed-light-on-down-syndrome-video/
Soundcloud:
or Podbean:
Read More
Archive
Navigating cultural differences in marriage can be a challenge but brings great rewards. This episode features Dusan and Elizabeth Turcon, Christine and Ysias Martinez, Justin and Bernadette McClain, and Dunn and Mary Estacio.
Available on podbean:
Or soundcloud!
Read More
Archive
Natural Family Planning, Part One!
Chastity doesn't mean abstinence, but rather integrating one's sexual impulses into love. That's obviously important in marriage. Anticipating Natural Family Planning awareness week (July 22-28), we talk about NFP with Amy and Duston Stout, Mark and Leslie Wolf, and Rachel and Dax.
Tons of information on NFP is available at the USCCB website. 
For example, here's a page with current medical research about fertility awareness.
If you are interested in finding a class, here's a directory that includes programs with distance learning.
National NFP Awareness Week is July 22-28, 2018. This year's theme is "Generations of Love."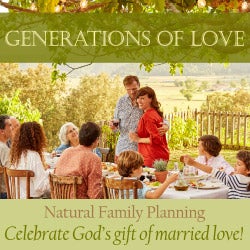 And since Rachel talked about a few books in the podcast, here are links to those:
Life-Giving Love by Kimberly Hahn and John Paul II's letter Familiaris Consortio