The Association of Member Episcopal Conferences in Eastern Africa (AMECEA), comprising of the Episcopal Conferences of Eritrea, Ethiopia, Malawi, Kenya, Tanzania, Sudan/South Sudan, Uganda, Zambia and the affiliate members of Djibouti and Somalia met for their regular triennial Plenary Assembly from 16
th
 -26
th
 July 2014 under the theme: 
"New Evangelization through True Conversion and Witnessing to Christian Faith".
In their statement, they said:
"We affirm institution of marriage as an indissoluble union of love between a man and a woman open to procreation and denounce any attempt to redefine this institution. Family life must be respected, promoted and protected so that it can provide men and women who can weave a social fabric of peace and harmony. We strongly condemn same sex unions and other deviations that go against human nature and natural law."
Read More
Archive
Yesterday, U.S. Senator Mike Enzi (R- Wyo.) and Representative Mike Kelly (R- Pa) introduced the Child Welfare Provider Inclusion Act. This Act is meant to protect organizations who provide child welfare services, such as foster care and adoption, when they have convictions that a child should only be placed with a married mother and father.  Currently, a number of organizations are unable to be of service because of their beliefs about marriage.
Three USCCB Chairmen (Archbishops Cordileone, Lori, and Wenski) gave their support to this bill, noting that, "Indeed, women and men who want to place their children for adoption ought to be able to choose from a diversity of adoption agencies, including those that share the parents' religious beliefs and moral convictions."
The Pennsylvania Catholic Conference also indicated their support for the Bill, noting, "In 2012, Catholic Charities helped complete over 3,000 adoptions and foster care placements, including permanent homes for over 1,600 special needs or "hard-to-place" children. By allowing a diversity of providers through the Inclusion Act, we will be putting the needs of children first and also protecting the religious liberty of long-serving child welfare providers."
Read More
Archive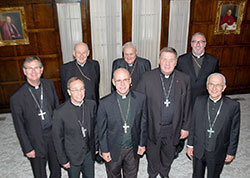 Yesterday, the U.S. District Court for the Southern District of Indiana ruled that Indiana's definition of marriage as the union of one man and one woman is unconstitutional and that the state's non-recognition of out-of-state same-sex "marriages" is unconstitutional. Indiana will be appealing the decision.
The bishops of Indiana issued a statement about the decision, noting that it, "ignores this fundamental and natural truth of marriage and opens its definition to the whims of public opinion."
Read More
Archive
The Bishops have called us to join once again in praying for religious liberty in the Fortnight for Freedom! Check out the video: http://bcove.me/7lk73omo
Read More
Archive
A number of officials from San Francisco and a number of other groups wrote to Archbishop Cordileone last week to urge him not to join the March for Marriage on June 19.  They argued that the March for Marriage was a platform for hate.
Archbishop Cordileone responded yesterday to the Lt. Governor Newsom and Mayor Ed Lee, pointing out that the March for Marriage, "is not 'anti-LGBT' (as some have described it); it is not anti-anyone or anti-anything. Rather, it is a pro-marriage March… Rest assured that if the point of this event were to single out a group of individuals and target them for hatred, I most certainly would not be there."
He goes on to encourage his correspondents not to take hearsay for truth and corrects a number of assertions about the organizers of the event. He states his willingness and interest in meeting the letter signers in person, not only to talk about the issue, but simply to get to know them, writing, "It is the personal encounter that changes the vision of the other and softens the heart."
The Archbishop ends his letter with a plea of his own: "When all is said and done, then, there is only one thing that I would ask of you more than anything else: before you judge us, get to know us."
Read More
Archive
In an article in the Arlington Catholic Herald entitled "Stand for Marriage, Stand for Faith", Bishop Loverde encourages the faithful to participate in the March for Marriage on June 19th.
He writes, "I know that some you have resigned yourselves to the redefinition of marriage, or perhaps are not convinced that defending the true definition of marriage is essential to the well-being of society, but I urge you, by example and prudent and thoughtful words, to stand for marriage at this critical time in our history. This is a fight worth having, and the time is now! As I wrote to you when we voted on marriage here in Virginia, 'Preserving and promoting marriage is an integral component of our shared civic responsibility.' "
Read More
Archive
The USCCB sent out this media release in response to the Oregon and Pennsylvania rulings this week.  
An excerpt: "Children deserve a mother and a father, and marriage is the only institution that unites children to their own moms and dads," the Archbishop said. "We need policies and laws that encourage strong, permanent and faithful marriages, and that help young people marry before having children."
Read More
Archive
Read the statement on the recent marriage ruling from the Pennsylvania Catholic Conference. You may also be interested in Archbishop Chaput's commentary on his Facebook page or Bishop Bambera's statement as well.
Read More
Archive
Please read the Oregon Catholic Conference's response to the ruling redefining marriage on May 19, 2014.
Read More
Archive
The Bishops of Virginia, represented by the Virginia Catholic Conference, filed an amicus curiae brief today with the U.S. Court of Appeals for the Fourth Circuit. In January, District Court Judge Arenda Wright Allen struck down the provision in Virginia's constitution that affirms marriage as the union of one man and one woman. The brief filed on behalf of the Virginia Catholic Conference explains, "Virginia's interest in marriage is based in the Commonwealth's foresight that changing the legal definition of marriage would unavoidably change the way Virginia's citizens view marriage and make the Commonwealth's marriage laws adult-focused rather than child-focused. If the message and function of marriage is changed in concept, the cultural significance attached to marriage will also change."
Archbishop Salvatore Cordileone of San Francisco, chairman of the U.S. Conference of Catholic Bishops' Subcommittee for the Promotion and Defense of Marriage voiced his support of the legal action. "The Bishops of the Catholic Church in the United States are united in their desire to preserve the institution of marriage, and we support the Virginia bishops in their effort to defend Virginia's recognition of marriage as the union of one man and one woman. For the good of children, it is critical that society preserve the true meaning of marriage."
With the Virginia Catholic Conference, the U.S. Conference of Catholic Bishops (USCCB) also filed an amicus brief in Bostic v. Schaefer, along with four other institutions. Oral arguments in this case were heard on May 13, 2014. The audio is available at the United States Court of Appeals for the Fourth Circuit.
Click here for the full press release. The amicus brief can be found at www.vacatholic.org.
Updated Monday, May 19, 2014